Trish spent over 20 years working nights, weekends and more than a few holidays doing the best work she could so she could make a name for herself in the industry she loved.  She started as an art director at Ammirati before making a move to Hill Holiday, where she earned a Creative Director title fairly quickly.  From there she opted to tackle new challenges client-side, leading creative for PwC on all recruitment and diversity campaigns.  A decade later, it was time to return to agency life.  She added another letter to her CD acronym during stints at McGarry Bowen and TBWA/Chiat Day, where she ran the global Accenture account and led the pitches that won TD Bank and Hilton.
Then at 50 she found her true passion.
Trish is gladly working nights and weekends again to help get a startup called Swaay off the ground.  It's a curated women's self-publishing platform for informed opinions and storytelling whose main mission is to ensure women have an equal and strong voice in the media.  We're thrilled to share her own strong voice here.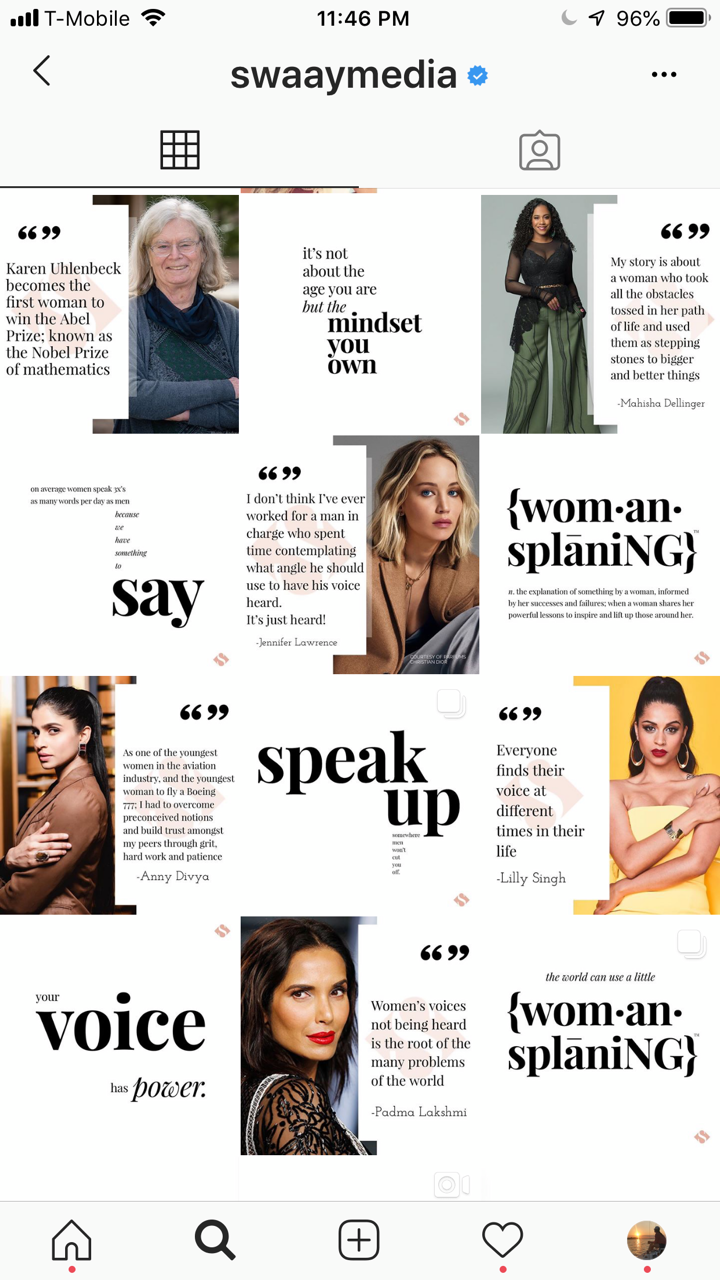 Is ageism in the industry something you thought about in your 30s? Your 40s? 
Not at all. I was too busy working, having kids, and trying to master the juggle.
Is ageism something that's affected you?  What are some of the challenges you faced as a person who was getting older in the business?  Do tell. 
It affected me internally. When I was approaching my 50th birthday - I was kinda shocked. How did I get here so fast? I became super aware of how young everyone else was at the agency. And all of a sudden I started seeing ageism topics on LinkedIn and statistics that there are pretty much NO women in advertising over the age of 50. At the same time, I was getting tired of the agency game. The pitches, working late nights and weekends, vacation sacrifices, the politics….and for what? The money…oh yeah, that was it. I felt I didn't have many options.
"My partner of 20 years [left] me just as I was turning 50. All I could think was, where the hell do I go now? It was terrifying. But what I didn't know then was it was also the best thing for me. "
Tell us about your own creative journey.  What are your thoughts on where you are now, compared to your mindset when you were in the beginning of your career? 
When I was younger, I was very competitive. I tried to get on the best assignments, I wanted to win awards, I worked late nights and weekends. As my career went on I realized it was more important to work for and with good people, have quality of life and flexibility (a mindset that not-so-coincidentally coincided with getting married and having kids).
I wanted to be an artist for as long as I can remember. My Dad was a painter and an art director at Lever Brothers. I loved visiting the Lever studio, the art directors were amazing artists - creating everything by hand. I started in the business right out of art school when I was 22 — as a Jr. Art Director at Ogilvy and Mather Direct. But I soon went back to portfolio school so I could move over to the "general" side of advertising. 
At my first job out, I had a wonderful ECD who took me under his wing. I later followed him to another agency, where I met my creative partner — with whom I would work for close to 20 years. 
But things changed after I had my first child.  The ECD who always had my back left and the new boss was not nearly as supportive of motherhood and flexibility.  I was miserable…then I got pregnant with my second child.    He was born at 24 weeks and spent 5 months in the NICU (life tip: never plan on things going according to plan).  He came home on oxygen and multiple medications, so I knew there was no way I could go back to work at the agency. 
I quit. And I had no idea what I was going to do next.
That's when that ECD I loved reached out and asked if I'd want to freelance for him directly for the client — from home. It was a godsend, and I remain forever grateful for this opportunity. 
I was more productive during that time than any other time in my career. It made me realize how much waste there is at most agencies. Working directly with smart clients you can accomplish a lot more in a shorter period of time. This was a really great situation for a while, but after about 10 years my partner and I started thinking it might be time to return to agency life. We freelanced for a bit and took two full-time gigs that lasted about 2-3 years each. Unfortunately, the moves also meant a return to the politics we despised. So when our last gig came to an end, we had to figure out what we wanted to do next. For him it was to do something totally different — move around the world to Bali with his family.
Which meant…my partner of 20 years would be leaving me, just as I was turning 50. All I could think was, where the hell do I go now?
It was terrifying.  But what I didn't know then was it was also the best thing for me. 
"The reality is the ad industry was not and still is not a good place for mothers or fathers. I had to make great sacrifices on both sides, career and family."
Did the reality of the ad industry contribute to the decisions you made/the path you've taken?
I think I partially answered this above. But yes, the reality is the ad industry was not and still is not a good place for mothers OR fathers. I had to make great sacrifices on both sides, career and family. 
Now I'm freelancing with the lovely Susan LaScala (the brilliant co-creator of this series).  We actually met years (and years) ago at Creative Circus and we both just happened to start freelancing again. It's worked really well, I think, because we are both very experienced and we're also both moms, so we are able to use a sort of shorthand and really understand each other inside and outside of work.
This time away from the agency also pushed me to pursue new experiences and discover new passions. Last year I spoke on a panel about ageism at the One Club. Oliver from Campaign magazine was in the audience and he approached me after, asking me to write an
article
based on what I had shared.
In advertising we always talk about the power of storytelling.  Well, after this article made its rounds on LinkedIn, the CEO and founder of
swaay.com
, Iman Oubou, reached out to me. She was looking for experienced marketing help. I ended up becoming a partner in Swaay and just helped launch our new platform that allows women to self-publish with the help of our editors and online tools. Our goal is to give every woman a voice.  We all have a story (or two) to tell. So in addition to freelancing I'm growing a start-up. It's entrepreneurial, it's fun, it's something that I believe in and is fills me up with purpose. We are now in the process of fundraising. We are so small, we all have to roll up our sleeves and stretch ourselves outside of our comfort zones. I feel like I got that fire in my belly back.
With all of these changes, I can truthfully say I'm much, much happier than I've been in years. And the crazy thing is, I never would have taken the leap to change things up if I hadn't been forced to. 
"What is amazing is [my business partner] is 20 years my junior...We learn from each other every day. I would say to all people of all ages: don't be quick to judge each other. We can all learn from each other."
What do you feel creative people over 50 can offer over someone 20 years their junior, things that are unappreciated, or just plain overlooked?   
What is amazing is that Iman is 20 years my junior and we are partners. We learn from each other every day. I would say to all people of all ages: don't be quick to judge each other. We can all learn from each other.
What is your advice to people who are nearing or over 40 in the ad industry?
The minute you don't love what you are doing or where you are doing it, get out ASAP. It won't get better. You might say yeah, but how? I recommend using a life coach, network, network, network, create some PR (publish an article on SWAAY ;)), get noticed, do something creative outside of your job - you never know where your next opportunity will come from.
How are you approaching the next 10 years?  What does your future hold?
Well like I said I'm in a start-up now and I'm hopeful that we will be a success. Either way, I'm going to enjoy the ride, have fun, spend as many minutes as I can with my husband, my kids and my aging parents. I'm going to continue to freelance for and with people I like.
The WSJ recently published an
article
,
The New rules of Middle Age
, written by women. 
I pulled out this quote: "In this day and age, if you start taking care of yourself, it's not unreasonable to think that the 50s might truly be halfway up the mountain," she writes. "This may be the middle of your life, not the beginning of the long goodbye."
What do you see as potential solutions for ageism in the industry? Any thoughts on possibly unionizing?
I think the solution has to come from the companies agencies work for. Clients that want young, hip talent. They are STILL figuring out "digital" and assume young people must know better than older folks. They are happy to have one or two senior leaders but prefer the doers to be young (and cheap). Our clients have to be part of the solution, just like they are doing with women (which I must say, I think is good thing for the industry). Right or wrong, I have had several recruiters call me for jobs that are looking specifically for women CD's. 
As our population ages we will need people that can speak to "older" people - we are cooler (or at least we think we are), living better, longer and have more income now than ever before, and we don't want to be spoken to like we are in an old age home or a see older people portrayed as a funny caricatures in a TV spot. The smart agencies and clients will eventually realize this.
I don't think a union is the solution.  We have been talking about this for years and I don't think it will ever happen.
What are some positive things you've experienced as you've grown older in the business?
I'm a lot more confident. I had a very senior client give me advice to speak up more in meetings. I had let my male partner take over at times, and she told me she wanted to hear from me. Now, I speak up more, say what I'm thinking and don't worry that I may not always be saying the "right" thing. It's very liberating.
Who do you look to for inspiration?
This is going to sound corny but I don't look to anybody or anything for inspiration. I look within. Since leaving office life I have more time to meditate, be outdoors, exercise, all of these things are good for the brain and creativity. If you were born with a creative mind it will always be creative and inspired - we just need to give it room to breathe.